PDF
FDA and Intellectual Property Strategies for Medical Device Technologies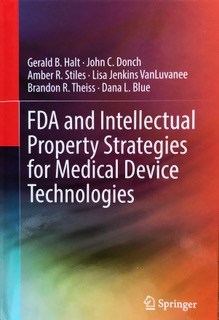 FDA and Intellectual Property Strategies for Medical Device Technologies provides comprehensive, easy to understand guidance for medical device technology innovators on how to work through the U.S. FDA regulatory review process while also providing insight on intellectual property concerns.
Co-authored by Volpe Koenig shareholders, Gerald (Jay) B. Halt, Jr., John C. Donch Jr., and former Volpe Koenig attorney, Brandon R. Theiss, the book describes unique intellectual property challenges that medical device teams face and discuss their impact on the process of obtaining intellectual property protections.
Co-authors Lisa Jenkins VanLuvanee, Ph.D., and Dana Blue, M.S., both from Facet Life Sciences, introduce regulatory compliance for medical devices and strategies for navigating the scientific and regulatory review process set forth by the FDA. They also offer a detailed description of the Premarket Approval (PMA) and the 510(k)-application process for medical devices.
The book's authors have extensive collective experience in law and research and development.
Available online from Springer International Publishing and on Amazon in both Kindle and hard cover format.