PDF
John C. Donch Jr. Judges 2017 International University Pitch-Off
Volpe and Koenig, P.C., Shareholder John C. Donch Jr. served as a member of the judging panel for the 2017 International University Pitch-Off, which the firm proudly co-sponsored. The event brought together student companies from English and Irish universities to compete against student companies from universities in the Philadelphia region.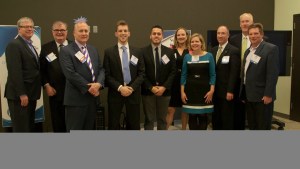 Volpe and Koenig's John J. O'Malley (far left) helped coordinate the International University Pitch-Off event and stands with fellow organizers, judges and competitors.
Competing were AtmoGEN, Mark Your Map, MatchDay Technologies, Orai and Twin Labs. The students hailed from Drexel University's Baiada Institute for Entrepreneurship, Newcastle University, Philadelphia University, Trinity College Dublin, The University of Pennsylvania and Villanova University.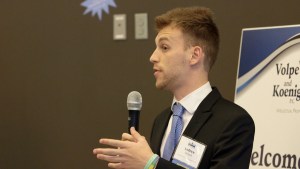 AtmoGEN co-founder Andrew Meluch presents during the International University Pitch-Off.
The judges heard persuasive pitches from the talented group of competitors and after much deliberation were thrilled to award AtmoGEN from Villanova University as this year's winner. After the event, John noted that all the competing companies demonstrated "admirable levels of innovation, talent, knowledge and poise," and that the students all undoubtedly have "very bright futures in their respective fields ahead of them."
Attorneys