Ep #9: Patent Stars- Celebrities Get Patents Too
This week IP Goes Pop! goes on a star-studded journey of celebrity inventors and patent holders.



This episode is dedicated to the music and memory of Eddie Van Halen, an innovator and inventor who changed rock music and the guitar as we know it. Eddie is a named inventor on multiple guitar patents.


Never miss an episode! Subscribe on Apple Podcasts, Spotify, Stitcher and other favorite media player platforms.
In this episode, host Michael Snyder strolls down Hollywood Boulevard and discusses some directors, actors, and musicians that have surprising and interesting patents.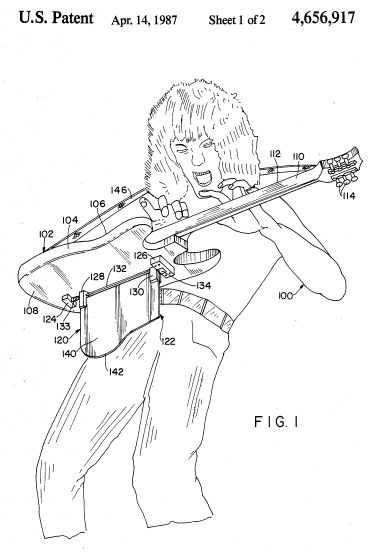 Timestamps:
02:42 Even stars get patents
Patent Act, "§101. Inventions patentable," 35 USC § 101
03:28 Episode Dedication to Eddie Van Halen
"National Museum of American History Receives Eddie Van Halen's "Frankenstein Replica" Guitar (Smithsonian, February 7, 2011)
06:28 Eddie Van Halen, Genius Innovator and Inventor
07:30 US4656917A, Musical instrument support
11:35 US7183475B2, "Stringed instrument with adjustable string tension control"
12:21 US10115383B2, "Humbucking pickup and method of providing permanent magnet extending through opposing coils parallel to string orientation"
13:19 USD388117S, "Guitar peghead"
14:16 Prince, "Can you make that in purple?"
USD349127S, "Portable, electronic keyboard musical instrument"
15:46 Michael Jackson, "Annie, are you novel and nonobvious?"
US5255452A, "Method and means for creating anti-gravity illusion"
19:13 Abraham Lincoln, star of the movie "Lincoln"
US6469A, "Buoying vessels over shoals"
20:36 Harry Houdini, "Use your illusions"
20:58 Patents – the "Contract with America "
22:57 Walt Disney, "I'll draw that!"
US2201689A, "Art of animation"
23:23 Hedy Lamarr (Hedwig Eva Maria Kiesler), "I invented WiFi in my spare time."
US2292387A, "Secret communication system"
24:46 Jamie Lee Curtis, "Cleanup, aisle this baby"
25:35 James Cameron, "Under the sea…"
US4996938A, "Apparatus for propelling a user in an underwater environment"
26:48 Christie Brinkley, "Uptown girl, I'm an educating Uptown girl…"
27:28 Marlon Brando, "Stella! Stella! Check out this invention!"
US6812392B2, "Drumhead Tensioning Device and Method"
28:45 Gallagher (Leo Anthony Gallagher Jr.), "Watermelons... Always watermelons…"
US7972210B2, "Electronic Slot Machine"
30:11 Steven Spielberg, "Action! Cut! Print! I like saying things!"
US8091028B2, "Method and Apparatus for Annotating a Line-Based Document"
31:28 Conclusion