PDF
Volpe and Koenig Announces New Book- "FDA and Intellectual Property Strategies for Medical Device Technologies"
Volpe and Koenig, P.C., announces the publication of a new book written to provide comprehensive, easy to understand guidance for medical device technology innovators on how to work through the U.S. FDA regulatory review process while also providing insight on intellectual property concerns.
In "FDA and Intellectual Property Strategies for Medical Device Technologies," Volpe and Koenig attorneys Gerald (Jay) B. Halt, Jr., John C. Donch Jr., and Brandon R. Theiss describe unique intellectual property challenges that medical device teams face and discuss their impact on the process of obtaining intellectual property protections.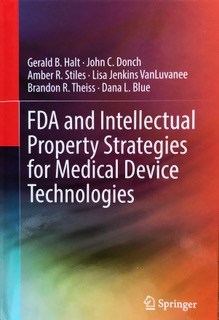 Co-authors Lisa Jenkins VanLuvanee, Ph.D., and Dana Blue, M.S., both from Facet Life Sciences, introduce regulatory compliance for medical devices and strategies for navigating the scientific and regulatory review process set forth by the FDA. They also offer a detailed description of the Premarket Approval (PMA) and the 510(k)-application process for medical devices.
The book's authors have extensive collective experience in law and research and development. Halt is the President of Volpe and Koenig, P.C., and represents clients in the medical device field. Donch is a shareholder at the firm who counsels clients on patent portfolio development and strategy. Theiss focuses on patent licensing and was a former engineer at a leading medical device manufacturer. All are intellectual property attorneys with engineering backgrounds. Stiles is an examiner with the USPTO in the medic device technical area. VanLuvanee is Vice President of Research and Development at Facet Life Sciences, and Blue is a Product Development Champion at Facet.
Commented Halt, "There are many potential pitfalls that both small and large medical device companies can fall into while balancing the competing priorities of obtaining patent protection and gaining the regulatory efficiency of a 510(k). Our book provides a roadmap that identifies the key obstacles and lays out a course on how to mutually comply with the apparently contradictory regulations from these two complex, disparate areas of the law."
The book is the fourth in a series that includes "Intellectual Property and Financing Strategies for Technology Startups," "Intellectual Property in Consumer Electronics, Software and Technology Startups," and "Intellectual Property in the Food Technology Industry."
"FDA and Intellectual Property Strategies for Medical Device Technologies" is available online from Springer International Publishing and on Amazon in both Kindle and hard cover format.
Attorneys