PDF
New E.U. Data Privacy Regulations: Impact, Risks and Strategies for U.S. Companies Doing Business in Europe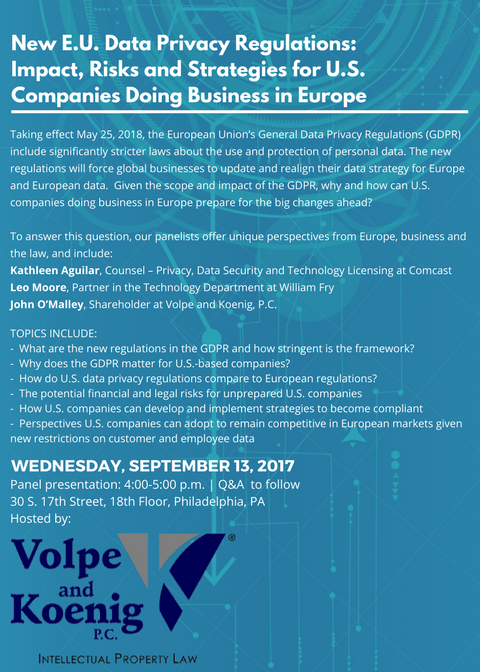 Volpe and Koenig, P.C., will be hosting a panel discussion on Wednesday, September 13, 2017, regarding changing data privacy regulations in Europe. Taking effect May 25, 2018, the European Union's General Data Privacy Regulations (GDPR) include significantly stricter laws about the use and protection of personal data. The new regulations will force global businesses to update and realign their data strategy for Europe and European data. Given the scope and impact of the GDPR, why and how can U.S. companies doing business in Europe prepare for the big changes ahead?
To answer this question, our panelists offer unique perspectives from Europe, business and the law, and include:
Kathleen Aguilar, technology and licensing counsel at Comcast
Leo Moore, partner in the technology group at William Fry
John O'Malley, shareholder at Volpe and Koenig, P.C.
Attorneys