PDF
Volpe Koenig Announces Recipients of 2021 IPromise Charitable Giving Fund $20,000 Grants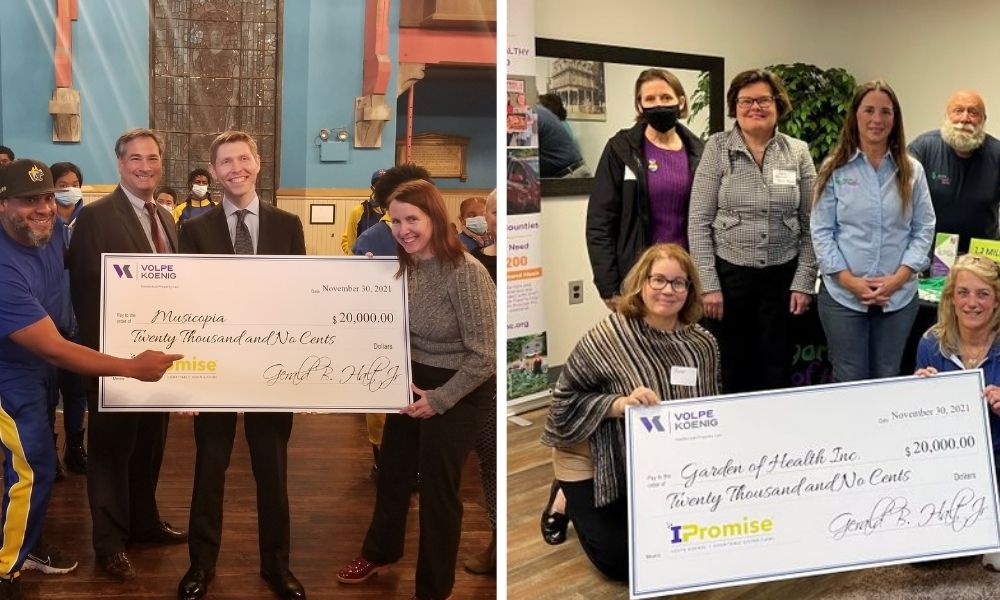 Volpe Koenig announced today that Garden of Health Inc. and Musicopia have each been awarded a $20,000 grant through its 14th Annual IPromise Charitable Giving Fund competition. The firm's charitable giving fund has awarded more than $500,000 to worthy organizations across our area since its inception.
Established in 2007, IPromise supports the mission of qualifying Greater Philadelphia Metro area non-profit organizations by awarding two $20,000 grants across six eligible categories that rotate each year. Fund categories include Arts, Culture and Humanities, Community Development, Education and Research, Environment and Animals, Health, Human Services & Youth Development, and Veteran Services.
This year's winner in the Community Development category is Harleysville, Pa.- based Garden of Health, which is dedicated to helping low-income families and seniors (especially those with dietary restrictions) access healthy food in order to thrive.
"We are so thankful to Volpe Koenig - IPromise Charitable Giving Fund for their generous grant of $20,000 to help us expand the number of food pantries and community organizations we can support," said Carol Baurer, founder of Garden of Health. "We currently serve over 30 organizations and haven't had the means to add many more this year. Because of the grant we will be able to accept new requests to deliver safe, healthy food for those in need!"
The grant winner in the Arts, Culture and Humanities category is Musicopia, a non-profit organization that reaches thousands of children each year through educational music enrichment programs in schools and communities throughout the Philadelphia Region.
"Musicopia is extremely grateful to Volpe Koenig and the IPromise Fund for the generous support of our Drumlines program," said Catherine Charlton, executive director of Musicopia. "Antoine Mapp, our Drumlines Director, has an extraordinary passion for serving youth. He has been passionate about using music as a way to build the community and keep his neighborhoods safe for over 30 years. We're excited to help more youth in Philadelphia benefit from his vision and dream of using percussion to help kids stay safe, build community and have their lives transformed by music."
Volpe Koenig Shareholder and 2021 IPromise Charitable Giving Fund Chair Gerald Halt said, "Garden of Health and Musicopia have programs that were in need even before the pandemic, and those needs have only increased over the last 18 months. We are grateful to have the ability to make an impact in the communities where we live and work, especially after these challenging times."
Next year's IPromise application process is expected to open in June 2022 for the categories of Education and Research and Environment and Animals.