PDF
IPWatchdog's Survey of "Top Patent Firms" Ranks Volpe and Koenig In the Top 10%
PHILADELPHIA, PA – (March 1, 2018) Volpe and Koenig, P.C., is listed in the top 10% of IPWatchdog's rankings of firms or in-house legal departments based on the total number of U.S. utility patents that issued in 2017.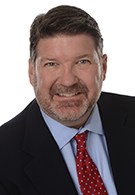 Volpe and Koenig President Jay Halt says, "This ranking is indicative of the firm's commitment to providing our global clients with exceptional service, including robust patent protection and coordinated, strategic IP counseling. We are pleased to once again be recognized in the rankings and look forward to continuing to serve our clients' IP needs throughout 2018."
IPWatchdog is a leading intellectual property law blog that was recognized in the ABA Journal's "Blawg 100 Hall of Fame." The "Top Patent Firms" ranking was based on the number of times a firm or company was listed on utility patent cover pages for the calendar year 2017.