PDF
Volpe Koenig Named One of the Best Places to Work in PA for 2021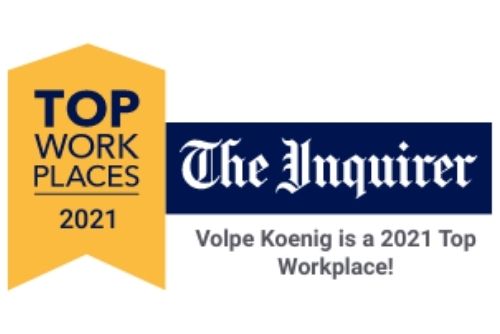 Volpe Koenig has been named one of the Best Places to Work in the Philadelphia Region for 2021. The awards program, created in 2010, is designed to identify, recognize and honor the best places of employment in Philadelphia.
The top workplace winners provide their employees with solid benefits, a positive atmosphere, meaningful work, a culture of strong leadership, and a commitment to developing, sustaining, and improving its employees. The greatest weight was given to an employee survey that measures employee experience.
"Volpe Koenig is proud to be recognized as one of the best places to work by The Philadelphia Inquirer," says firm President John C. Donch Jr, calling the honor a "testament to our firm's core values of professionalism and teamwork, where employees work collaboratively with pride and ownership to be the best they can be while contributing to the overall success of Volpe Koenig and its clients."
Jerry Wyckoff, the firm's Executive Director added that, "Volpe Koenig is committed to growing and supporting our team so that they feel motivated, appreciated and challenged. We believe that developing our talent is a benefit to the firm and to our clients."
Click here to read the full story from The Philadelphia Inquirer.